About
…the Wonder View Inn – A Bar Harbor Hotel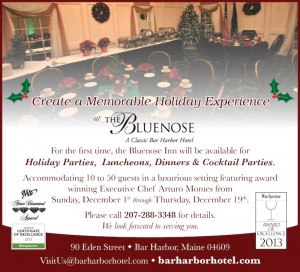 The Looking Glass Restaurant's Executive Chef, Arturo Montes, will be creating amazing meals during the Bluenose Inn's extended fall season. Please find out more about these special events planned here… In addition, we are now booking for Holiday Parties for any day of the week (availability Dec 1st to December 19th).
Please call 207-288-3358 or 888-439-8439 for rates, information, reservations & gift certificates.
High on a hilltop: One of the premiere Bar Harbor Hotel locations in the area. Only a minute from downtown Bar Harbor, and Acadia National Park. Superb dining: Enjoy the famous, eight sided, glass walled, Looking Glass Restaurant, and enjoy the spectacular panorama that only the Wonder View's unique location can provide. Comfortable rooms: Most balconies offer views of Frenchman's Bay and the surrounding islands. Step out to our pool or stroll our beautifully manicured grounds.
The Wonder View Inn has FREE Wireless Internet throughout the property.
Our Looking Glass Restaurant was voted the "Best Breakfast with a View," for all of Maine, by the editors at Yankee Magazine (May/June 2010).
Acadia National Park named #2 Outdoor Destination by TripAdvisor's 2010 Travelers' Choice Polls (Find the Article Here)
We are located on 14 sprawling acres home to a variety of wildlife (no bears) and offer plenty of room for the entire family to explore.