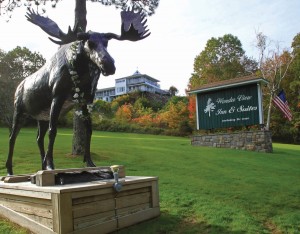 A Pet-Friendly Bar Harbor Hotel
Please call 207-288-3358 for reservations.

Please review the most up-to-date information on traveling from out-of-state into Maine by clicking here.
*Important updates for the 2022 season:
–Our goal for the start of the 2022 season is to open select guest room buildings by May 27. Please note that this is subject to change.
–The office for check in and check out will be located at the

Bluenose Inn

which is next door to The Wonder View Inn.

The Bluenose Inn

is located at 90 Eden Street, Bar Harbor. For further directions and information, please call 207-288-3358. The office will be open 24 hours a day.
–*To limit exposure and protect our guests and staff, our daily stayover housekeeping service will be limited for the 2022 season. If desired, a housekeeper will enter your room to make the bed, remove trash and replenish towels and amenities. A 'do not disturb' sign will be located in each room for you to put on the outside of your door if you wish to forego daily housekeeping service.
–The Island Explorer Shuttle Bus plans to run with several modifications this season. For more information, visit Exploreacadia.com. 
–Our Looking Glass Restaurant will be serving breakfast only starting Saturday, May 28. We encourage take out service but will have tables available if you would like to dine in the dining room or on the deck. The Looking Glass will be closed on Tuesdays.
–Please know we are doing all we can and need to do in order to operate safely. This includes abiding by a long checklist of actions, restrictions and rules provided by our Governor, Janet Mills. While we know several of the comforts and services that you are accustomed to will be different or are temporarily paused, we are continuously working to find alternatives to our usual services that will help make your stay with us that much more enjoyable.
The Wonder View Inn, a Pet-Friendly Bar Harbor Hotel near Acadia National Park, has been named an Editor's Choice for, "Best Pet-Friendly Lodging in Maine," by Yankee Magazine.
Good Morning America Viewers voted Acadia National Park as  America's Favorite Place! Click here to see the live reveal from Jordan Pond!
The Wonder View Inn is a pet friendly property that sits high on a hilltop offering one of Bar Harbor premiere hotel locations. Our property has a twenty-four hour front desk located at The Bluenose Inn next door, access to an outdoor heated pool, and beautifully manicured grounds in which you can enjoy playing volley ball and horseshoes, or take a relaxing stroll with your dog. The entire property has FREE wireless internet and many of our rooms offer views of Frenchman Bay and surrounding islands. Not only are we a minute from downtown Bar Harbor and Acadia National Park but we also offer superb dining on property at our Looking Glass Restaurant which offers spectacular panoramic views of Frenchman Bay.
The Wonder View Inn is a stop for the free of charge Island Explorer that operates from June 23rd to Columbus Day. This is a shuttle service offering 8 routes linking the hotels to the downtown area as well as Acadia National Park. See Eden Street Route Here
We are located on 14 sprawling acres home to a variety of wildlife (no bears) and offer plenty of room for the entire family to explore.
No-smoking in rooms, on balconies and in non-designated areas.